Cumberland County, New Jersey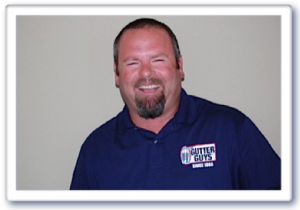 The Gutter Guys of Cumberland County, New Jersey is owned and operated by Bill Thompson. He started his career with The Gutter Guys in 1995 as a crew member at our founding office in Egg Harbor Township. After several promotions, he relocated to Cumberland County in 2001 to expand the offices which now provide expert rain gutter service in Cumberland County. Bill is proud to represent one of the highest rated and well respected gutter companies in the United States, and will do whatever it takes to make his customers happy!
Cumberland County, New Jersey features over 40 miles of Delaware Bay coastline and a maximum elevation point of only 140 feet above sea level. Known as the "Garden Spot" of the Garden State, Cumberland County supplies a variety of vegetables to consumers all across New Jersey and many cities of the eastern United States and Canada.
The ample and virtually year-round rainfall common in Cumberland County could cause major damage to a home that is in need of gutter repair. Rain gutters protect your home's foundation, doors, windows, roof, fascia, and decorative landscaping, so it's very important to be aware of when your home may require gutter replacement.
Clogged rain gutters also have damaging effects on your home, and even just a handful of debris can cause traditional gutter systems to fail. The best way to ensure that your gutters remain clog free every day of the year is to have Gutter Guys' exclusive lifetime guaranteed gutter guards installed on your home.
Since the Gutter guys started in 1988, we have prided ourselves on prompt, professional service. Our gutter cleaners and equipment are made from the highest quality materials available and are installed by courteous and well-trained craftsmen.
Our office is proud to provide comprehensive gutter cleaning services in Cumberland County, including areas such as Vineland, Millville, Bridgeton, Cedarville, Port Norris, Port Elizabeth, Upper Deerfield, Laurel Lakes, and Maurice River.
To request a free estimate or learn more about our seamless gutters and gutter installation services, please contact The Gutter Guys at 1-800-GUTTER-1. We look forward to adding you to our growing list of over 400,000 satisfied customers!
The Gutter Guys
Serving all of Cumberland County
Click to call local or 800 +1 (800) GUTTER-1 OR +1 (856) 563-0466
We look forward to you joining our growing list of happy and returning customers.
Cumberland Co NJ & Bridgeton

Port Elizabeth

Vineland

Millville